We are specialised in the individual production of customised presses for many varying applications. Our production range extends from small laboratory presses to complex production lines. We cover the entire value added chain , from the design/ construction to the production and commissioning, including services.
We are a small, but proactive team of about 35 highly qualified people.
We like to collaborate confidentially with our customers and suppliers for our mutual benefit. Our corporate philosophy relies on frank and fair co-operation which enables us to speak about potential problems as early as possible and thus to find solutions without a lawyer.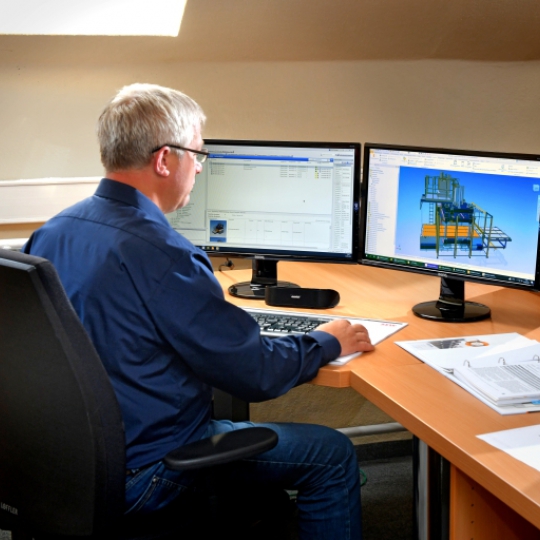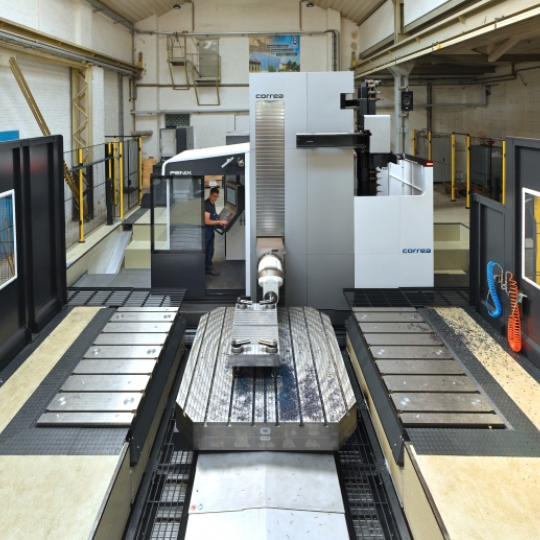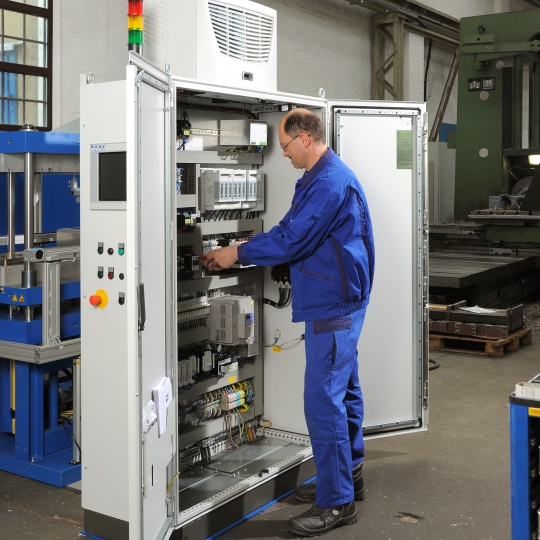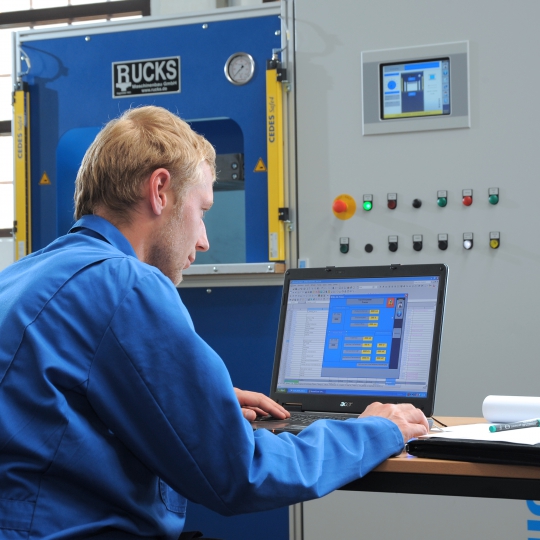 An overview of our skills
Design of mechanic, hydraulic and electric with modern CAD systems by our own permanently employed experts
Manufacturing of the press systems in the new assembly hall with a ceiling height of 15 metres and two 25t cranes
Programming of software (control & data acquisition) by our own experienced personnel
Development of new types of machine concepts by the Engineering department
Customer trials in the RUCKS' building or with cooperating research institutes
Creation of specification sheets
Machining on advanced machinery
Building of our own switch cabinets (in house)
Quick, skilful assistance by the engineers and software developers who constructed or programmed the machine
The required components and outsourced manufacturing services are first of all purchased from proven german partners
Training of engineers in co-operation with the university of cooperative education Glauchau, provided in the subjects informatics and production engineering
Training of apprenticeships to skilled workers in mechatronics and industrial mechanics
RUCKS' more than 175 years is also more than 175 years of German history
RUCKS has survived Emperors and Kings, Leaders and Presidents of the State Council. Several high-quality products constructed and manufactured by motivated employees on the company's own property have remained unchanged to the present day. This continuity of the past ensures the safety of the present time, when many recipes for success burst like bubbles after a short time.
The following time line should provide you with a brief insight into our moving company history. Anyone interested in more detail can download the chronicle about the company's 170-year anniversary as a PDF file.

| | |
| --- | --- |
| 2021 | Stefan Rucks - Degree in "State-certified technician", re-entry as head of final assembly and internal machine acceptance |
| 2020 | Parallel production of 2 Continuous Compression Moulding Machines, each having a press force of 8400kN and a heating plate size of 1.300 x 2.400mm |
| 2018 | Completion of the reconstruction of the building for electrical engineering and programming with expansion of the office capacity as well as inauguration of the new company museum and library |
| 2018 | 175th company anniversary with in-house exhibition and numerous guests |
| 2017 | Parallel production of two robot cells for different applications |
| 2017 | Start of intensified market development in England, France, USA and Canada with first realised projects |
| 2016 | Stefan Rucks successfully completes his apprenticeship as a mechatronics technician at RUCKS |
| 2015 | Production of 24 press blocks, each having 5 press cells within 10 months |
| 2013 | Inauguration of the new assembly hall and the company's 170th anniversary |
| 2012 | Press systems continue to become larger; laying of the foundation for a new assembly hall with two 25 ton cranes and a hook height of 12 metres |
| 2011 | Development of concepts for several specialty systems in the Engineering Pre-projects section |
| 2010 | More than 50% of the press systems enter the field of composites |
| 2009 | The Specialty Systems department continues to grow; employment in the Engineering department increases |
| 2008 | RUCKS celebrates the 165th anniversary of the company. |
| 2008 | First cross linking of 15 presses with the data acquisition and visualisation software Rudas. |
| 2006 | Creation of specifications and the production of all electrical presses enlarge the product/ service range. |
| 2003 | RUCKS celebrates two great events: the 160th firm anniversary and the 80th birthday of Reinhold Rucks senior |
| 2002 | Expansion of the production range by producing water hydraulic presses. |
| 1997 | Apprenticeships for industrial mechanics are offered, later on mechatronics are restarted. |
| 1996 | Rainer Rucks becomes an active partner. |
| 1995 | Beginning in 1995, the buildings and production are comprehensively repaired and modernised, RUCKS remains at the traditional location. |
| 1993 | RUCKS celebrates the 150th anniversary of the company. |
| 1991 | Representing the 5th enterprise generation, Rainer Rucks joins the company. The firm's business line now focusses on the pan-European market. |
| 1990 | The firm is privatised again: because of a dispute about the residual debts, this procedure lasts until November 1994, although determining the property status is as easy as possible. |
| 1989 | In 1989 and 1990, the frontier opens to the West; all nationally owned companies are affiliated with the society Treuhandgesellschaft. |
| 1988 | Reinhold Rucks leaves his post as a company manager, but remains active as a consultant. |
| 1974 | From 1974 to 1988, the company mostly supplies presses to the rubber, wood and friction lining industry and the car supplier Sachsenringwerk Zwickau. |
| 1974 | Robert Reinhold Rucks dies and with him the 3rd firm generation. |
| 1972 | They are forced to sell the enterprise to the state of the GDR. Reinhold Rucks becomes the general director in the nationally owned press-building company "VEB Pressenbau Glauchau" |
| 1960 | On January 1st, 1960, the firm is transformed into a KG (limited partnership), in which 30% of the shares are hold by the state. This is the only way to secure material supplies for the future. |
| 1955 | Development of presses for duroplastic materials for the East-German car "Trabant" begins |
| 1950 | The entrepreneur Reinhold Rucks is not allowed to study in the state of the working class and farmers. |
| 1946 | Friedrich Reinhold Rucks enters the company; he becomes a co-owner in 1948. |
| 1946 | Return of the firm as a result of the political position of the Rucks family during the Hitler regime |
| 1945 | The enterprise is confiscated by the Soviet military administration, machines are disassembled. |
| 1943 | RUCKS celebrates its 100-year anniversary. |
| 1934 | The second generation firm leader dies on November 22nd, 1934. The next company manager is Friedrich Robert Reinhold Rucks. |
| 1932 | Building of hosiery-forming machines |
| 1922 | Successful extension of the firm in spite of inflation. |
| 1920 | In the decade from 1920 to 1930, a large number of presses are delivered e.g. to Scandinavia and Russia. The export rate is at 50%. |
| 1914 | A part of the firm burns down and is rebuilt despite World War One |
| 1880 | Mutual agreement between Mister Haubold ( today the ERMAFA in Chemnitz) and Mr. Rucks to limit their business lines: RUCKS gives up building calenders and Haubold making presses |
| 1870 | First activities are building hydraulic presses and associated press water pumps for the textile industry |
| 1866 | On August 31st, 1866, the firm's founder dies of cholera. The enterprise is taken over by Karl Robert Rucks. |
| 1852 | On October 24th, 1852, the firm moves into a new space in the Auestraße, the current firm headquarters. |
| 1844 | From 1844 to 1848, there are disputes with the authorities over permitting the craft |
| 1843 | On October 23rd, 1843, Friedrich Benjamin Rucks registers an iron foundry as a craft; product offerings hardly limited. |